Wardrobe boxes
There is a saying: "To feel rich, you need to move." And what's the best way to pack all our belongings?
You can sort things out using old shoe, household appliances or moving electronic equipment boxes. (Of course if they have not been thrown away, and if they are big enough). You can also borrow some suitcases from your neighbour or put things into bin bags. Yeah, you could get away with it if you were moving next door or down the street. However when moving from the UK to Australia you need something much better than that. First of all this would not be accepted by Australian Customs Officers and secondly you want your stuff to reach the new home intact. Simply you have to use for example wardrobe boxes. Yes the wardrobe boxes! A lot of our customers have never heard about them. Have you?
What's a wardrobe box and what it looks like?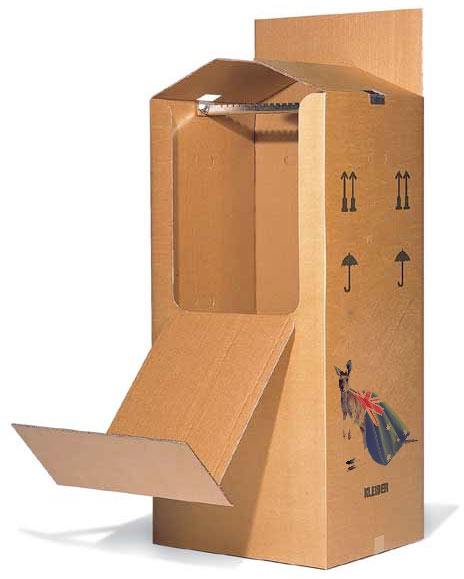 The wardrobe box is probably one of the biggest boxes used for shipping goods to Australia. The most common mistake is that a lot of people think it is huge so you can pack it full and put inside anything you want. Unfortunately it is a big mistake as the wardrobe box can carry only a certain weight and should not be overloaded.  Usually the bottom of this type of box looks like there is a space to put some books, plates etc. Please note this is not a good practise. Wardrobe boxes are not meant to be used for moving heavy, breakable items. They have been designed to move clothes.  However on the very bottom you can put some light items like pillows just to utilize the space in the box to maximum.
The unique thing about this kind of boxes for moving skirts, dresses, trousers, suits, shirts  and other clothes is that they are quite tall and there is a bar, kind of a clothing rail which is placed on the top, right in the middle and goes across the box. What it is for? You use the bar exactly as you use the clothing rail in your wardrobe. Simply move your clothes which are on coat hangers from your built-in wardrobe into the wardrobe box. Yes, using wardrobe boxes make the entire packing and moving process much easier, cheaper and saves a lot of time.
Remember not to squeeze your clothes too hard in the box. If you put too many clothes the box will be very heave and difficult to move. After the move you can find all you clothes on the bottom of the wardrobe box, all crumpled, due to the broken bar.
It is very important to pay attention to the bar ends. They are sticking out a little bit on both sites of the wardrobe box. Very often the bar ends are very rough or even sharp and it is very easy to cut your hand. Once you have finished the packing make sure you tape the bar ends a few times. Make sure they are properly covered with the tape and safe to use.
One of the huge advantages of using wardrobe boxes is the access. For example when it gets a bit cooler at night when you move, you can always open it up and grab a jacket or a jumper.  Also if you hang your clothes properly in the wardrobe box you will not have to iron your clothes once you have moved.
Wardrobe box dimensions
Wardrobe boxes come in different sizes and shapes and have been designed to facilitate packing when moving house overseas.  Cardboard wardrobe boxes with coat hangers may have different dimensions. Most often they are 60 cm wide, 50 cm deep and 115 cm high.  They are made of a strong five-sided, 3 layer cardboard. They protect your clothes from creasing during removals to Australia. Very often due to the high quality of the cardboard used for making the wardrobe boxes they are suitable for multiple use.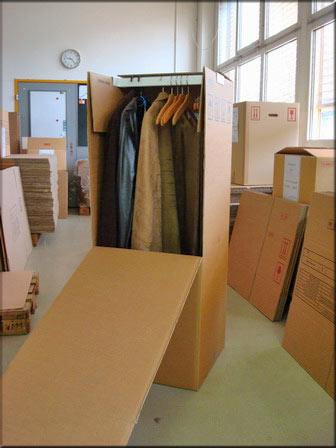 It has a hinged front, handles for easy carrying and one or two bars for about 25 coat hangers. At the time of removal or a house refurbishment the wardrobe box can be ideal as a mini portable wardrobe for storing clothes.  They are very widely used by international movers as well as by local firms offering removals to Coffs Harbour, Sydney or Melbourne.
Advantages of using wardrobe boxes:
Strong 3-layer cardboard
Handles for easy carrying
Internal rail for hanging clothes
Save time
Things in the portable wardrobe or closet box do not crease and thus there is no need for ironing
100% Recyclable
Arrive flat packed and can be flat packed after the move
Straightforward to put together
What's the cubic volume of a wardrobe box?
The cubic volume of an average wardrobe box is approximately 12 cubic feet. How to calculate this? Simply multiply the width, depth and the height on your box. Let's take our wardrobe box dimensions to make an example: 60 cm (width) * 50 cm (depth) * 115 cm (height) = 0,345 cubic meters. Now we need to convert the cubic volume in metres to the cubic volume in feet.
1m³ = 35.315ft³
0.345m³ = X
X = (35.315 ft³ * 0.345m³) / 1 m³ = 12.2 ft³
Moving baby clothes in the wardrobe box advice
If you are moving with children and want to you use a wardrobes box for your baby's clothes we have a good shipping advice for you. Of course just one bar at the top of the box would not make sense. You can use another bar and place it right in the middle of the box. You can make 2 level wardrobe boxes.
Wardrobe boxes prices
The price of a wardrobe box will depend on a few factors. The first factor is the quantity, the more you buy the better deal you get. Another factor affecting the cost of the wardrobe box is its quality. It can be made of two or three layer cardboard. You need to also check the cardboard layer thickness. The thicker is the layer the stronger is the box. Of course the dimensions can affect the price too. Bigger box will cost more than smaller. It is much cheaper if you get boxes from online shops. However make sure there is a free delivery. If you live in a big town or city you may buy boxes online and collect them from a local shop. So as you can see the prices will vary. Below, you can see the prices we have found online:
Wardrobe boxes costs
3 x Double Wall Wardrobe Removal Boxes 20"x19"x49" - Price - £18

3 x Wardrobe Moving Boxes - H 20" x W 18" x D 48" - Cost - £27

1 Wardrobe Box - 20.0" x 18.0" x 48.0"; – Rate per box - £8.99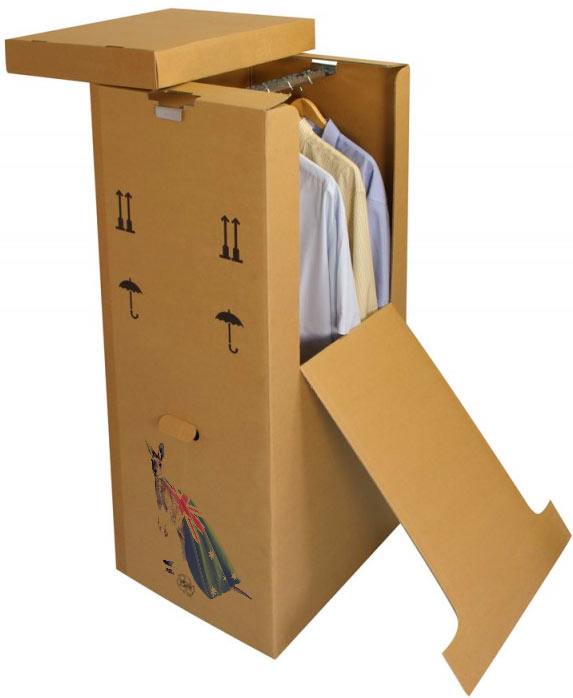 When buying and ordering wardrobe boxes online make sure the price includes the Hanger Rail. Also most online shops offer a free delivery if your order is over £50. Cheap, strong and very comfortable wardrobe boxes - prices, dimensions, cubic volume, advice on how to pack them. On our website you can find all the info you need. If not, just give us a quick call! What boxes can I use for shipping clothes to Australia?
Go back to international packing services or read more about book boxes for shipping and moving books.