Book Boxes
Books are very easy to pack as they fit very nicely and neatly in the box due to their rectangular size. So what's difficult about putting books, magazines, and documents into a box? The most common mistake when packing books is the usage of large inappropriate boxes. Books are very heavy, much heavier than other small household goods. That's why for moving books you should use specially designed and very strong book boxes. Large boxes loaded with papers in different shapes and forms can weigh even 50 or 60 kg. You can very easily hurt your back trying to lift such a heavy box. Your moving company will have a lot of problems to move it too and in addition to this the large box full of books may simply not survive to the end of your relocation to Australia. In most cases they simply fall apart and all books get damaged. So the firs and the most important rule when shipping books is to use proper book boxes.
Book boxes dimensions and cubic volume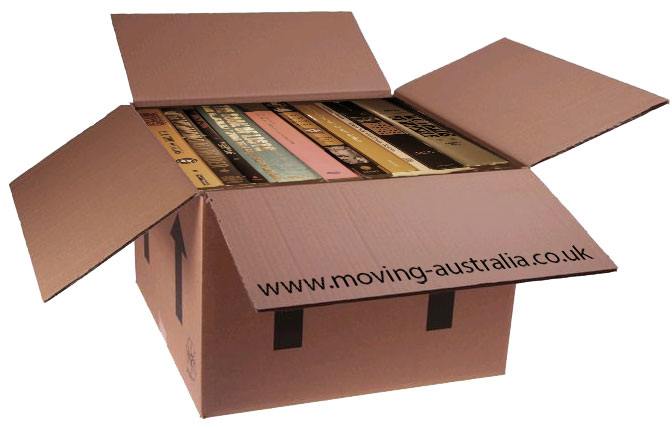 Because the books are relatively heavy putting them into a large box is very risky. It didn't take long before removal companies realized they needed to come up with a good solution for sending books overseas safe. And here we are the book boxes! It is very likely you have already seen a book box. In general one could say they are medium size. What are the exact book box dimensions? Well they may very depends on the manufacturer but average dimensions are:  18'' wide x 18'' deep x 10'' high and in centimetres – 45 x 45 x 25. The cubic volume of an average book box is about 3240in³ = 1.8750ft³. The book boxes are not only smaller but also much stronger, they are good quality. They are 5 layers, double walled with no handles as they would weaken the structure of the book box. Such cardboard cartons are ideal for shipping large amounts of books, photos, files, documents, news papers and documents to Australia from UK.
How to pack boxes for shipping to Australia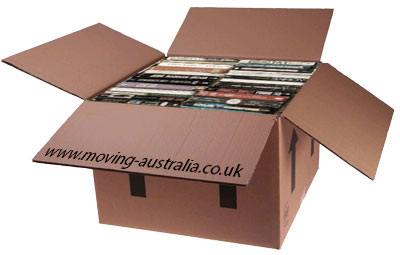 The first step you should have taken care of by now. To start packing you need a box and in this case it has to be a book box. The next step is to put all books you want to send to OZ on the floor and arrange them by  size.
Group them so they fit nicely into the book boxes. Pack them up right in the box with the pages facing the sides. For the next row pack the books spine to spine and once the book boxes are full and there is no free space for more items put a layer of paper on the top of books just to prevent them from moving inside and close the box.
Make sure you have a good tape and tape the boxes up to be sure they will not open during the transport to Australia. There is one more final step the inventory. Put a number on each book box, take your inventory form and make a note. It is also advisable to write on the box what it contains in our case simply put down – Books.
Tips and advice about moving book boxes
Your books shipping costs will likely be determined by weight especially if you decide to ship by air and book can quickly add to the weight of your move and inflate your costs. Please think twice whether you really want to take all those books from your childhood, college and university otherwise you will be paying to move all those additional book boxes.
When packing book boxes remember to place the heaviest book on the bottom. The lighter books and objects should be placed on the top.
Always pack your magazines, papers and books horizontally. You can pack them vertically at the end if you have some empty space on the top in the book box.
Remember to label you book boxes with the inventory list. By doing this you will let the Australian Customs Clearance Officers know what's inside which will minimize the risk of your boxes being chosen for the inspection.
Always if you experience any problems with packing and moving book boxes ask your removalists to do it for you.
Mark each box with the content and location, you can also put down your name.
When putting a book box together or even when using a used one it is very important to reinforce the bottom of the book-box with a moving tape so it is steady.
When filling up the book box no padding is needed. If the books are roughly the same size they should be packed standing and more books can be put on the top of them laying down. Whatever way of packing you choose the book boxes should be pack right up to the top without leaving any space between the books and the top of the box.
When sealing the book box more tape for the reinforcement is needed again to insure the steadiness of the box. Otherwise it can easily be torn due the heavy weight carried.
Remember the cheapest option for shipping books to Australia from UK is the sea shipping.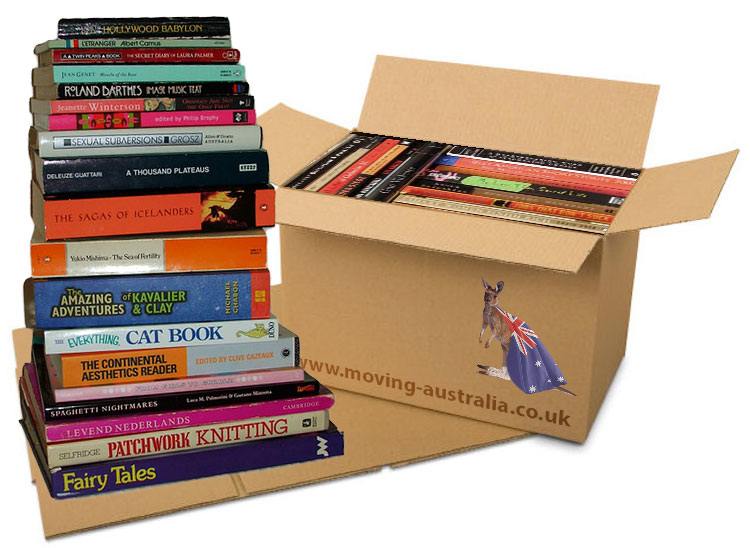 What items can be moved in the book boxes?
The book boxes are pretty much universal. To be honest there is no limitation in terms of what you can put inside.  As they are very strong and quite small they are ideal for shipping to Australia small bathroom items, kitchen utensils and some small heavy items
Book boxes prices
As the book boxes are pretty small the prices are not too expensive. An average book box will cost you from £1,40 up to £2 per box. It is cheaper if you get them from an online store and if you order at least 10 of them.
Book boxes prices

| | |
| --- | --- |
| Book box Size - 46cm x 33cm x 33cm (18'' x 13'' x 13'') | Price Single £1.70, Pack of 10 £13.00 (£1.30 each) |
| 10 x book boxes for books, files and magazines, dimensions 21" length x 13" width x 12" height , quality double thickness cardboard, ultimate load 80 pounds ( 40 kg ) | Price Single £2.10, Pack of 10 £19.00 (£1.90 each) |
| Very strong double wall cardboard book shipping boxes, SIZE: 15.5 inch x 11 inch x 7 inch | Price Single £1.50, Pack of 20 £25.00 (£1.25 each) |
Now everything should be clear and you should have a good understanding of what's the book box, what it looks like and what it can be used for. Now get in touch with us for your cheap book boxes for shipping books, magazines, documents, photos, and other paper items to Australia from UK.