Cheap flights to Australia
How to find a cheap flight?
This article won't explain how to find a flight to a particular destination, but how to find and book cheapest flight possible. We will show you what tricks to use, where to seek and when to do all of that.  On our where to search and how to get an insanely Finding a really cheap flight takes a lot of time and tedious work. So only you will have to decide how many time and energy you are able to spend looking for sales, promotions, special deals and cheap last minute flights to Australia. If you are lucky finding a good air connection for very little money will be nice and easy, but for some people, that are not so lucky or simply not very patient, a better way would be just to spend more money and buy first ticket they find.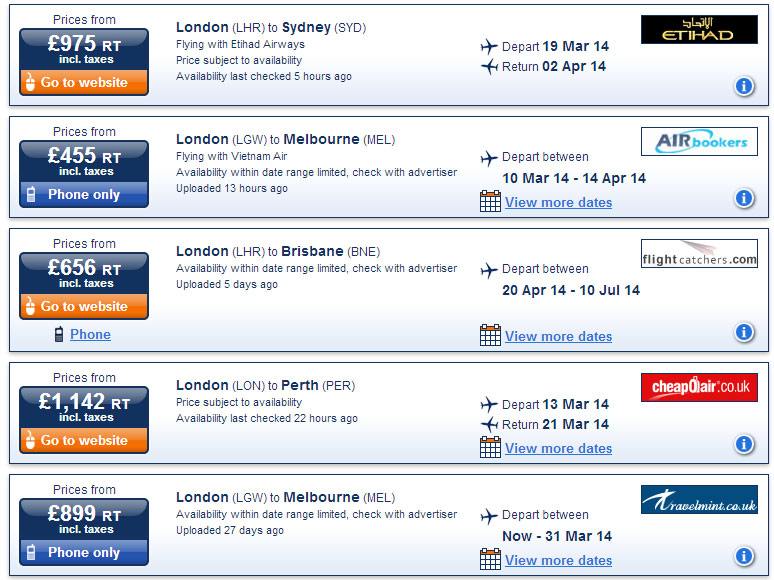 How to fly for cheap to OZ?
Very cheap, in some cases almost for free (just a few pounds) you can fly between European countries. That's what almost everyone knows and takes advantage of it even a few times a year. But flights over the ocean to USA, Australia, or Canada can be found at low price too, for example it is possible to get a cheap return flight from the UK to Australia for as little as £300.
The level of difficulty in finding the best last minute deals for cheap airplane ticket depends on your flexibility. Think about several destinations - Sydney, Perth, Melbourne, Canberra or Brisbane, or not just to one country. For example you could check aeroplane tickets to Indonesia or to New Zealand as the flights from there to Australia are very cheap. The more flexible you are about the date, the bigger are your chances of finding the cheapest flights and book the ticket for half price or less. If you're not flexible about the region and the dates of departure, the case becomes more complicated, but there are still some some good places and ways of booking a low cost.
If you are looking for airline tickets promotions remember that they last for a few hours or days only and in most cases there are just a few tickets with low price. So, if you find something very cheap you have no time to think! Buy those tickets!
Top WEBSITES with cheap airlines to Australia
First very helpful idea is to use a website that are dedicated to the latest sales and promotions on flights offered by many airlines. On such websites you can compare flight tickets to Australia at no costs. Lately, there have been created plenty of Internet sites of this type, and they are very popular among backpackers, students, etc and UK citizens moving to Australia. Not all promotions are on the main page. Browse those websites, ask other users on forum. They might give you some additional tips and hints. If you really want to book a cheap flight offer you need try hard, many times a day and for a long period. The more questions you ask the more info you will have. In a short time you will learn where to search, how to browse the websites to find your low costs flight tickets.
Regular AIRLINES'  WEBSITES checking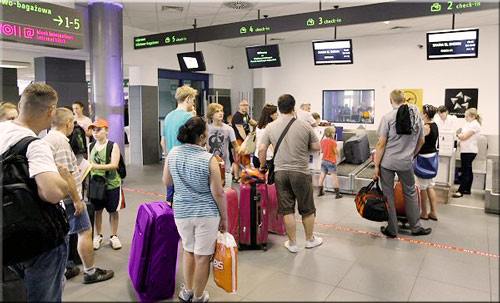 For those who are patient – another option is looking for a good deal on cheap airlines' websites. There always are several operators on air-route you may be are interested in.
The following airlines offer direct flights and flights with 1 or 2 changes to Australia: Emirates, Quantas, Virgin Atlantic, Singapore Airlines, Air Canada and Virgin Australia. Those websites you should properly browse through very properly at lease twice a day.
Do not be in a hurry, take your time and wait until you spot the right offer. Unfortunately most last minute, cheap flight tickets are unchangeable. It means that you will not be able to reschedule your flight, change the time or the date or ask for the money to be returned to you, even you you cancel your flight with 1 week notice. Please keep this in mind when browsing and buying cheap tickets through the regular airlines' websites.
Cheap FLIGHTS Internet BROWSERS
Looking for flights in one airline is time-consuming and not very efficient. There are browsers that scan many airlines to find the best ticket prices and the most convenient flight connections. But those flight browsers do not scan everything, they can skip some operators, promotions, etc. So it is not good to trust them 100%. Our tip is do not make a reservation using the internet ticket browser websites. Most of the time the price is higher because of the commission for the site. On a percentage basis in many cases the flight costs can be lower, but ALWAYS CHECK THE PRICE on several websites and services. Once you have found the ticket you would like to get, check what airline is offering it and go directly to their website and search for the same flight. Make sure if the price offered on the official airline website is the same, higher or cheaper and book your ticket accordingly.
WHEN TO MAKE the ticket RESERVATION
The dates you are going to travel are very important factor that will affect you ticket price. Depending on the airline, there are different policies on setting the cheap flight prices and the discount's time and availability duration. What's the best time to make the flight reservation and book the cheap ticket to OZ?
WHEN TO BOOK A FLIGHT? What's the best time?
The dates you are going to travel are a very important factor for your ticket price. Depending on the airline, there are different policies on dates or periods during which the prices are lowest. Some companies offer cheaper tickets during the week-days, other during the weekend. In most of the cases the tickets are cheapest around 2-3 months before departure, getting more expensive as the date of the flight is coming closer. The best time to book the cheapest tickets seems to be ASAP. Plan your trip well in advance and start looking for the flights ASAP. The worst thing is to leave it to the last minute when the tickets are most expensive.
HOW TO FIND THE MOST COMFORTABLE Flight Connection FOR LITTLE MONEY?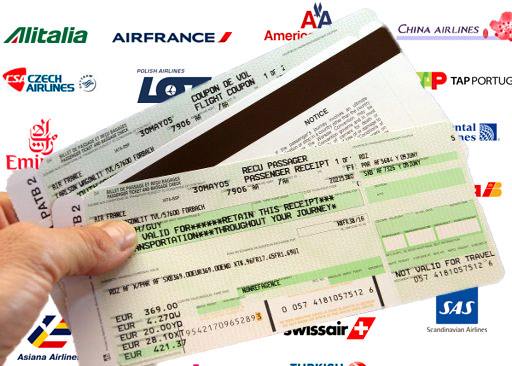 If the date of your departure is flexible, pick '+/- 3 days' option to your search. The browser will show you flights during a whole week, not only one day.
And he ticket for a day earlier or later can be much cheaper. Some direct flights are not daily, but only 2 or 3 times a week, so adding 3 days can completely change the route and the price of the trip.
Take a look on the time of the trip and the number of changes and connecting flights. Those numbers can vary depending on the airline. Choose what the best is for you.
Think about cheap airlines. Travelling with cabin luggage can be economic with those operators. But if you have a lot of baggage, the regular airline operators can offer lower prices.
Even if you think about one-way ticket, check the prices of return as well. Sometimes booking two flights can be cheaper than one-way plane ticket. In other cases buying two tickets separately can cost less.
If you are looking to travel to popular holidays destinations, whether you are planning removals to Newcastle in NSW, check charter flights. Tour-operators can offer better prices and more comfortable dates.
It is worth noticing, that generally there are no cheap flights from Europe during our summer and around Christmas. The best time for cheap flights is between September and November, and then in late winter and spring - from January to June.
For longer trips it is good to consider spending some time online and looking for promotions on several short flights and then combining it into one long route with few changes.
Where are the cheap connection hubs?
Heathrow, but also Frankfurt, Munich, and Düsseldorf are very important airports in Europe. Moscow and Dubai are good stop-over when you're travelling to Asia, especially Middle-East. Singapore, Hong Kong, Macau and Bangkok are cheap connection hubs for flights to Australia and Oceania.
New York is for the USA, Miami for trips to South America.