Shipping paintings
Would you like to transport your paintings overseas safely? We understand they may be precious mementos inherited from your family or very costly souvenirs and gifts carrying emotional values. Therefore is important to prepare the shipment of oil canvas paintings with at most care. As you can imagine the paintings are very fragile and can get damaged very easily during the relocation and moving process.
Do you wonder how to ship murals, sketches and other framed images to Australia so they reach you new home with no scratch? Would there be any tax to be paid? What's the procedure? How long does it take and how much would it cost?
What documents need to be prepared etc..? Our friendly and obliging staff will take care of everything. We will email you a free quote consisting of:


Pickup and delivery time
Professional packing and crating of paintings
Insurance cover
Breakdown of all shipping costs involved in exporting and getting a painting to the recipient
How to pack and send a painting?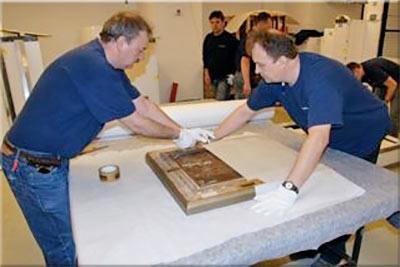 If your paintings are very expensive or if you are planning to ship antiques it could be a good idea to consult a conservator of works of arts, which will help you choose the safest packaging materials - papers, boxes, crates, wooden cages - compatible with the material of which the painting was made from. You need to remember a few simple rules.
Pack and ship only those paintings that are in a good condition. Moving old, delicate objects brings a risk of further irreparable damages. When packing your valuables, especially those with smooth, monochromatic surfaces, you should wear white cotton gloves to protect objects from hard-to-remove finger prints.
Do not wrap any wall paintings and murals directly with a bubble wrap, as it secretes chemicals that are harmful to canvas, wooden frames and oil paintings. The bubble wrap texture can leave marks on the canvas.
Also you should not use any acidic paper.
Make sure the painting is not loose in the crate. To prevent it from movements and abrasions in the packaging, apply special stabilizing materials like papers, clothes, sponges or pads.
When closing the box with the painting inside, do not hammer nails or drawing pins. Use screws or a strong adhesive tape.
Secure the box with paper or foil to protect it from the temperature and humidity changes that can occur during the delivery.
The crates, cages or boxes with paintings to be send by air or sea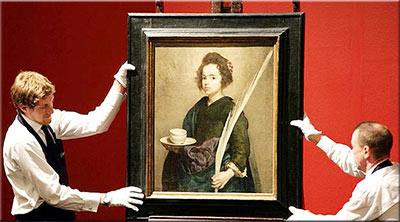 should be marked and described very clearly. Your painting movers and all shipping companies involved should know they are dealing with fragile items that need especially careful handling.
For more complex objects, such as non-traditional art, large sculptures or antique furniture shipping combining road and sea shipping or air freight packaging and transport require proper equipment and experience. Therefore, when planning the movement of such items, it is worth paying for international moving companies specializing in moving and bringing of old, delicate and fragile items such as paintings.
Using professional painting shipping firms is not the cheapest option but for sure it is the best way for your paintings overseas. Regardles of the destinations be it shipping to Albury, Sydney, Rockhampton or other city, we can offer our services at affordable rates.
As you probably can imagine the most difficult part or exporting paintings is the packing. You need to use adequate materials otherwise they can interact with the painting and damage it. next thing you have to consider are the conditions the painting will have to go through. If you choose to ship it in a container such a journey can last even 12 weeks door to door. There may be a change of moisture and temperature. Experienced painting movers know how to protect your framed pictures and wall art against those changing weather factors.