The twelve apostles
If you consider visiting Australia and the chosen destination is Melbourne (the second largest city), it will be a big miss on your part not to see one of the most beautiful natural formations on the continent.
Named "The Twelve Apostles", this amazing wonder rises among the waves of the Australian coast. The site was previously known as the Sow and Piglets (Muttonbird Island was the Sow, and the smaller rock stacks were the Piglets) but the name was changed for tourism purpose.
The formation of the natural phenomenon Twelve Apostles started about 10-20 million years ago. The harsh and extreme weather conditions from the Southern Ocean gradually formed caves in the cliffs, which then became arches, which in turn collapsed; leaving rocks up to 45 meters high.
In case you wonder how to get there- following the panoramic road, called Great Ocean Road, guarantees that you will get to the Apollo bay, and from there you can easily reach the Apostles.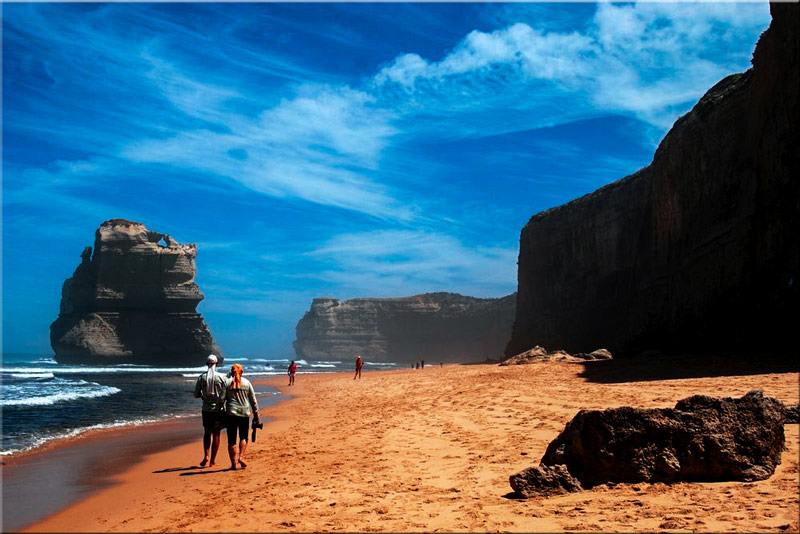 As part of the Port Campbell National Park, this destination seems like heaven to the tourists. The natural beauty is not the only alluring element. The Apostles are situated right between Princetown and Peterborough, which give them even larger popularity.
The area of this wonderful phenomenon is so well developed for tourism, that it offers many options to each seeker of natural wonders. The best part is that the constant stream of people does not affect the peace of this protected territory. The diversity of routes and trails makes it easier for the tourists to enjoy every aspect of the walk towards the divine beauty of the 12 Apostles.
On the other hand, visitors can also take an advantage of the tourist centre, which will make their experience pleasant and risk less. Among the tempting options to consider, there is the aerial tour by helicopter, which is also organized by the tourist centre Victoria. Furthermore, the location has great car park and an observation platform, from where tourists can enjoy the endless beauty of the Australian coast.
The Twelve Apostles used to consist out of nine rocks, but after 3rd of June 2005 one of the tall stacks collapsed, leaving eight remaining. The inevitable erosion of the soft limestone cliffs in continuous contact with wind, seawater and sun, makes this attraction temporary or in other words – endangered.
So, if you have the chance, admire this amazing place during dawn or sunset. Such inspiring landmarks are especially beautiful when the sun is low on the horizon. The sunlight falls in so many different and peculiar angles, that the Twelve Apostles will be coloured in hundred of wonderful colours to warm your soul.
The 12 Apostles if definitely one of most famous monument in OZ that everyone should visit. Most travellers put in on the first place on their list of places to visit in Australia.